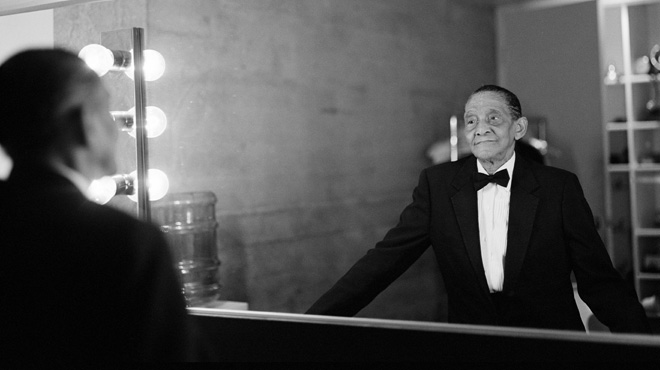 Photograph by Arlene Pachasa  
Pachasa is best known for her film, fashion and celebrity portraits.

Pachasa and Scott are both from Cleveland!

Today is jazz vocalist Jimmy Scott's birthday. He would have been 89. He passed away last month on June 12th.  I've been reflecting on the amazing voice he had and his life. He had incredible resiliency, overcoming congenital health issues, as well as the hard knocks and neglect of the music industry. The latter part of his life he finally got the recognition he deserved. In the early 1990's he was acting in David Lynch's Twin Peaks and you could hear his sublime voice once again on the radio. His album, Falling In Love is Wonderful, was shelved for over 40 years and finally released in 2003. At last, the public was finally appreciating what the industry insiders already knew. Singers and musicians such as Billy Holiday, Nancy Wilson, Ray Charles, and Dexter Gordon were all inspired and influenced by Scott's artistry. Rolling Stone quotes Ray Charles saying, "As singers, we all deal in pain, we're all trying to push the pain through the music and make it sound pretty. Jimmy Scott has more pain and prettiness in his voice than any singer anywhere." 
 
Los Angeles/Georgia based film director Matthew Buzzell and the sorely missed, late film producer Brian Gerber, together made the award winning documentary,
Jimmy Scott, If You Only Knew. It is an artful, intimate film following Scott at home and on tour in Japan. I highly recommend viewing it.

Buzzell's thoughts:

I was recently asked what it is about Jimmy's music that touches me so profoundly.  I can only say that Jimmy had the ability to take a song that I have heard hundreds of times (performed by hundreds of other singers) and make me feel as if I am hearing the song for the very first time.  It is as if I am hearing the melody and the lyrics completely anew.  Jimmy's song readings also reveal hidden joys, hidden pains, and hidden truths.  His music has painted great portions of my life and will continue to do so.  I am so very grateful that I was able to know him as both an artist and as a splendid example of a human being.  Bless you, Jimmy.  And thank you.
Matthew Buzzell
July 17, 2014 (Jimmy Scott's birthday)